Get Creative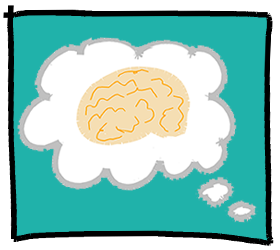 Let your mind soar with this fun and creative drawing app for Android devices. It's great for the casual doodler in us all.

Draw & Color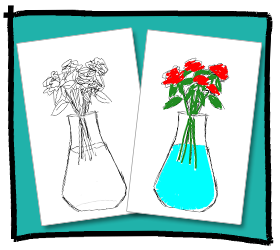 Color, doodle and draw. Choose from 16 fun basic colors and 13 brush sizes to play with, as well as an eraser and fill canvas tool.

Fun Backgrounds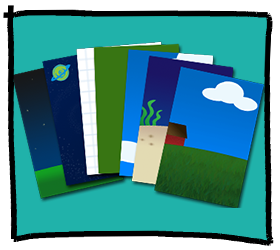 Choose from several fun background options. From the ocean floor to the depths of space, spacious farm land and the big blue sky.

Helpful Templates
Use helpful templates such as graph paper in several sizes, a to-do-list, and even a blank Tic-Tac-Toe board to keep you entertained.

Simple Interface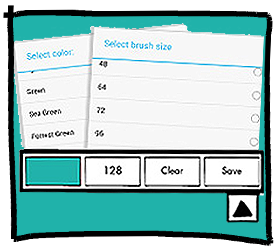 Simplisticaly designed for those looking to draw without intimidating menus and tool options which can end up distracting you from simple, drawing fun.

Quick Canvas

Set a favorite canvas color and orientation for quicker access to the drawing screen. To change the settings, simply long-press Quick Canvas in the main menu to access the settings.
Kid's Mode

Draw with fun line choices on a randomly selected background color. Choose from Confetti, which draws a line with alternating colors, or Random, which changes the line color each time you lift up.
Gallery

Open the Gallery to view all of your art work and notes quickly and easily. Tap the thumbnail to see the image full-screen (tap again to go back), or long press the image to delete the image from your device.
Eraser & Fill Canvas

Use the eraser to remove unwanted marks, and use fill canvas to cover the entire canvas in the selected color.
Save & Load

Save your project to view in the gallery and to load later on. The default save file type is .png. Simply add .jpg to the end of the filename to save as a .jpg
Upgrade to Full

Upgrade to the full version of Sketch Mate for more great features such as more colors, no ads and more.